POSTSCRIPT - The Tacumshin 'Western Sandpiper'
I don't know if it is actually true, that "everyone makes mistakes" (in bird-identification), but I know that I certainly do, and not infrequently. However, I usually realise when I have done so pretty quickly, and if nothing else, these errors serve as regular reminders of my own fallibility. When it comes to making public pronouncements on the identification of rare birds, either ones I have found myself or ones I that I've been invited to comment upon, I am cautious, and try not to get it wrong, but that is exactly what I did a month ago, when I re-identified a stint I had initially believed to be a Semipalmated Sandpiper, as a Western Sandpiper. I feel it may be helpful now to correct my error, in as clear a manner as I made it.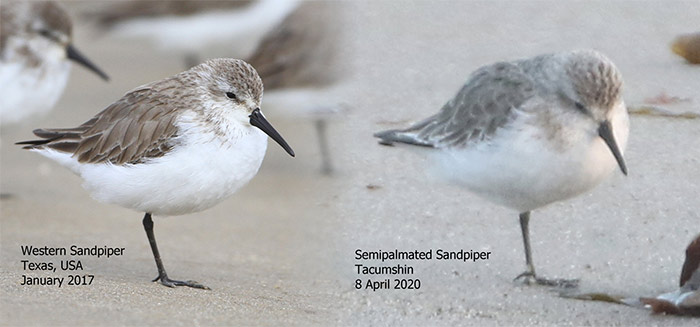 With the benefit of hindsight and several subsequent observations of the bird in question, I can see that the genesis of my mistake was to allow the strongly Western-like impression I gained on that second evening effectively obliterate the more Semipalmated-like impression I perceived initially, and which gradually reasserted itself with subsequent observations. With the bird being apparently a first-winter, there was little in the way of plumage detail that helped in the identification process, but what disturbed me most in the course of subsequent observations was the bird's 'jizz', in particular its shape and proportions. Often, it appeared to have a rather long, chunky and somewhat oval-shaped body and a proportionately small-looking head, rather than the more front-heavy pear-shaped body and proportionately big head that I associate with Western.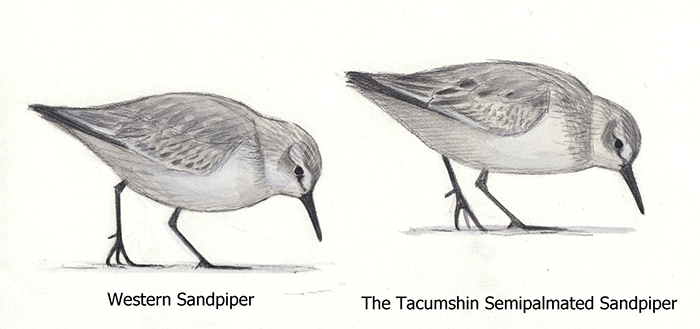 Of course, assessments of body-shape are highly subjective and a lot of the time I couldn't decide whether it looked one way or the other, but on balance it seemed to me more like that of a Semipalmated than a Western, despite my really wanting to see it otherwise. With the growing uncertainty as to what I was dealing with I realised also that I had perhaps been too simplistic in my interpretation of the consistently rather high-pitched 'chip' notes I had recorded on 9 April as being diagnostic of Western. My efforts to obtain further recordings yielded nothing new, just a few more squeaks and chips that differed little from the homogeneous Calidrid chatter being produced by the many Dunlin and Sanderling with which the bird was associating, but then I wasn't hearing any distinctive Semipalmated "chrkk" calls either, so there was still hope... There was no sign of the bird after 26 April, and a few days later the entire flock, disappeared, so I assumed that was it; I was not going to get a chance to gather more evidence, and would have to do with more critical analysis of what I already had. On the morning of 6 May I was delighted to hear from another birder that the "Western was back", along with a much increased arrival of up to 4,000 Dunlin. Even though it had now moulted quite a bit since I first saw it, its appearance had not changed a great deal, but I reasoned to myself that I would not expect a Western to necessarily acquire rufous colour in its moult to first-summer plumage (though this is precisely what I hoped would develop if the bird stayed long enough!). What was interesting however was the bird had now selected a particular patch of mud as its feeding territory, and was vigorously chasing away Dunlin that encroached on 'its patch', apparently calling at the same time, though it was much too distant to be audible.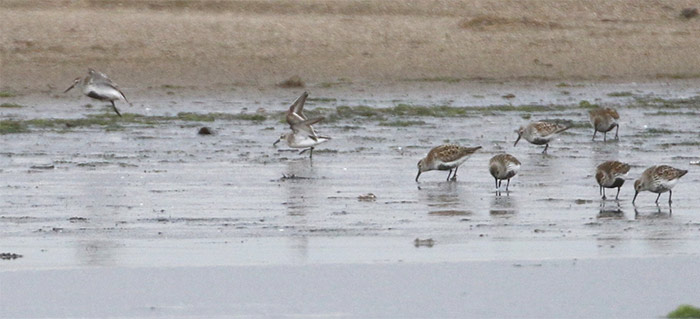 With the very calm conditions on the morning of 8 May I took up position, parabola at the ready, close to the spot. It did not take long for the large congregation of Dunlin to relax, and start working their way toward me, but I had to wait a while for the 'Western' to gain confidence. When it did, it came running ahead of the pack, and started feeding within 30m of me. As soon as the first Dunlin arrived on its patch the pugnacious behaviour commenced, and with it, a lot of vocalisation; no high-pitched squeaks or chips now, but a variety of grunts and deep 'chrks' that reminded me more of a Turnstone than a Western Sandpiper! While the adverse light from my position was not ideal , I could now see that the newly moulted greater coverts and tertials had pale ginger fringes, not a hint of rufous....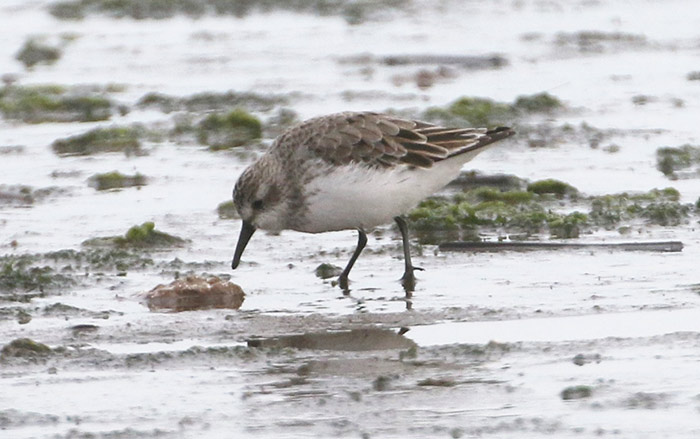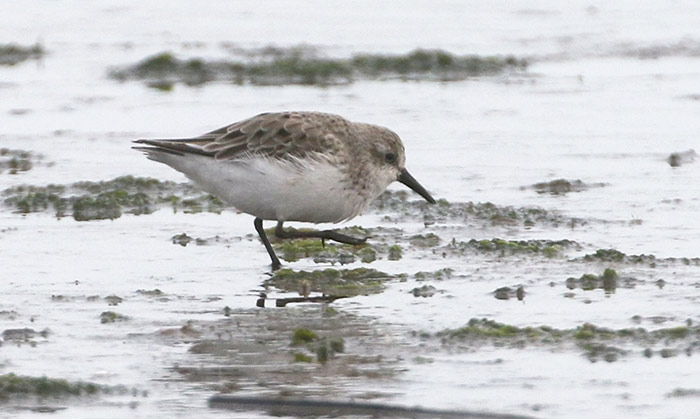 It was now so undeniably a Semipalmated, I wondered how I had ever managed to convince myself otherwise. I guess that sometimes all it takes is that dangerous combination of over-excitement, over-confidence, and a touch of wishful thinking. So, while I am cross with myself for not having exercised due rigour with a bird in this notoriously tricky plumage, I am very glad to have had the chance to rectify the error while the bird was still present, and learn a few things in the process of doing so.
Killian Mullarney
15 May 2020
Share this story
Tweet