Finders-in-the-Field: Brown Booby, St.Ives, Cornwall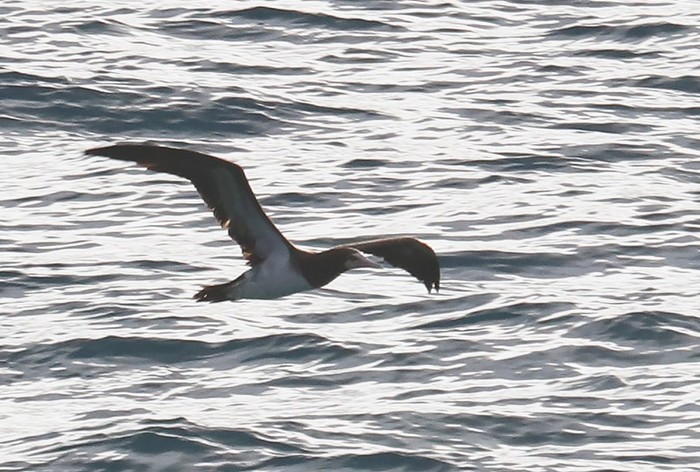 For the previous few days I had been getting up at 4.30am to go mist netting at Nanjizal and after a busy morning extracting Sedge Warblers I decided to pack up early so I could go to St. Ives with the family and friends. As getting into St. Ives by car is a grim prospect in August we decided to get the train from St. Erth. Having small kids we didn't venture far from the train station and ended up on the nearby beach doing the usual bucket and spade activities. While sat close to the shoreline watching the kids paddling in the sea and keeping the Herring Gulls away from the food, I noticed a few birds feeding off shore. As I was on a packed beach with kids, and bikini clad ladies I thought that taking bins with me maybe wasn't a great idea and let's face it, you don't find rare birds on a packed beach...
So as I was sat there, one bird jumped out as being different and not the usual Gannet. It wasn't feeding with any other Gannets, so I couldn't get any size comparison. It did look lighter framed, but it was the plumage that jumped out at me as it was unlike any immature Gannet. I could see a clear dark breast and head, sharply contrasting with its white belly. I could also see the under wing pattern and that was unlike an immature Gannet. Having seem Brown Booby abroad I immediately started to wonder if this could be one. This bird was staying low and diving at a very shallow angel, maybe 25 degrees, once again, this didn't seem quite right for a Gannet. Most unusual, was the frequency of dives which seemed quite manic, with a succession of dives quickly repeated. ***After a while it drifted off towards the Island. Once it had gone I started to doubt myself, as you would, especially as I didn't have my bins. Surely it couldn't possibly be... a hot August bank holiday... packed beach and no bins...
Hoping that there may be someone local with bins or a scope in the area, I sent a message out to one of the local WhatsApp groups. Knowing that there would be lots of raised eyebrows, my message said sat on beach at St. Ives with no bins. Interesting looking Gannet type bird feeding offshore. Looks a bit like a Brown Booby. Sure it's not, but if anyone's out this way". Later on that day, a few local birders were asking questions about the sighting and I told them what I had seen. Obviously doubting what I had actually seen, I tried to put it to the back of my mind and enjoy the family time.
The following day, I was out netting at Nanjizal. While opening up, a Nightjar was flying around and the previous day's Spotted Crake flew up on the first net round! The day was going to get even better with over 200 birds ringed, including Blyth's Reed Warbler and two Wrynecks! It was then topped off with the news that the Booby had been photographed! I was shocked, and thrilled that someone had come up with some back up, verifying my suspicions. Such fortune that most birders can probably relate to when they think they've seen something unusual but the moment passes too quickly. Quite a surreal and incredible twenty four hours and I certainly didn't anticipate the latter one when my day began.
Kester Wilson
28 August 2019
Share this story
Tweet