Birding Heaven and Hell: the ultimate trek for the Seram Thrush
What seems like just a few days ago I received a text informing me to check a post on Bird Forum saying that a Seram Masked Owl had been seen in its roosting hole just 10 days ago on the 6th November. Luckily I had a flight booked to Jakarta on the 12th where I had arranged to meet up with John Gregory. We were planning to go to Enganno and Mentawi, off the southern coast of Sumatra and then we were off to Lore Lindu, to look for the recently sighted Sulawesi Woodcock. This was a late change to our original plans as we were originally planning on going to Aceh in northern Sumatra with the hope of seeing my last mainland Sumatran endemics, which I had already dipped on a previous trip, the Aceh Bulbul and Roll's Hill Partridge and the Woodpecker for JG.
Within a few hours of reading the post another plan was forming in my head - a roosting Seram Masked Owl was just too good to miss. Indonesian Masked Owls are notoriously difficult to find, I had previous with Minahassa Masked Owl; it had taken me 3 attempts to see it; it was never in its roosting hole. I finally saw one at night with JG a couple of years ago. I just had to convince JG that it was indeed an excellent idea to go for the owl and then Seram Thrush would be another little side trip - little did we know what that would involve..............
This is Johns interpretation of the events
So! What just happened?!
10 days ago I was setting off for a quiet bird watching trip to Sulawesi and Sumatra. I had got as far as Makassar when I met this untrustworthy character ranting about this photo and was subtly hoodwinked into one of the most stupid and yet most rewarding changes of plan that I have ever made.....
Only a handful of people in the world had seen Seram Masked Owl and one was staked out in a hole next to the Trans Seram highway. It was now the 13th Nov; a photo was taken a couple of weeks previously.
My kidnapper, Ashley Banwell, had also been pummelling me with information from Ross and Melissa Gallardy re their DRY SEASON trek in the Manasuela NP in Seram. They describe a horrendous walk to see the little known Seram Thrush. Taking 6 days and walking 75 km through some of the most difficult and treacherous terrain to see a bird that has become mythical in its invisibility.....
There was no way that I would be doing that in the rainy season.......even though less than a handful of people have connected with it. In the end I agreed that the Owl opportunity was too hot to ignore......plans were starting to shift..... So we flew to Ambon and met a local guide Vinno Soewarlan . A tense lunch discussion ensued.... Vinno clinches it by saying that the 70-80 km trek will only mean 3 nights away and BBC Weather advising sun for the next 5 days despite it being the rainy season. We go shopping for wellies but they do not have a big enough size so I have settle for one size down so... we have... a man with only one kidney and a man in his 60th year wearing small size wellies - a fetching orange colour - about to climb from sea level to 1400m plus in the rainy season covering 80k in just 4 days and birding at the same time....what could possibly go wrong?
The trip was on. Afternoon fast ferry from Taluhu E Ambon to Amahai on S Seram - 2 hours - and then 3 hour drive to our overnight accommodation on N Seram at Sawai. Two stops on the way … once when a probable Masked Owl drifted across the road in front of the intrepid frontier birders who were largely all asleep and then again at the point in the road where we thought that the roost tree in the photo might be .It was now 9pm. After a quick scramble down a ravine we listened and heard both the Scops Owl and the Boobok and then we heard the haunting screech of a Masked Owl right over our heads. Despite much searching and cursing we were unable to locate the bird and after 30 minutes we headed to our accommodation. - a rather charming stilt house built over the sea. Very nice … but it was going to be all downhill from here........
Seram Thrush Trek Day 1
Up early, refreshed, Nasi for breakfast and ready for anything.....
But first we need to get that Owl. We head to the hole which is about 45 mins drive in the wrong direction.
Despite the impression on Bird Forum the hole is a good 20 meters up in the tree. No Owl. Ashley's expletive vocabulary expands once again.....we give the tree a few 'tickles' but to no avail ...the Tyto is missing.
When you put yourself out there by twitching a bird half way around the globe on 3-week old information you are either going to be a birding hero or the ultimate birding prat. At this point in time we were firmly in the latter category.....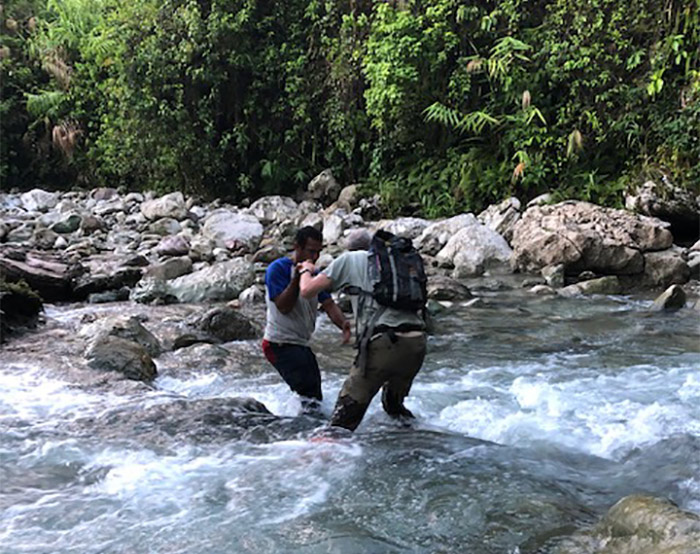 Seram Thrush Trek Day 1 Part 2
Ok this is it. After dipping on the Owl we can put it off no longer. We drive to the village of Huaulu ; the start off point for the trek. There we get to meet our porters ......Datje (he went with Ross Gallardy so knows the sites well), Fede - chief cook and porter and Gerson - all round nice guy. These chaps would literally be our life support system for the next few days.
'So Vinno Soewarlan - how far are we walking?' Vinno tells us that initially we will target Roho Village some 7 km away....an easy afternoon stroll we think....so at around 11am we finally get on our way.
The first 3k is a bit up and down with a few areas of ankle-deep mud. Nothing to get too worried about - and it's sunny . Early indications are that we might have overloaded the porters. We didn't know what to expect so have probably packed too much. After 3k we reach a river and rest for a few mins. Then we wade down the river, occasionally taking to a very muddy bank to avoid deep areas and fallen trees. Still reasonably easy going.
At around 1.30 we get to a confluence with the 'BIG RIVER'. This is an entirely different proposition with knee deep fast flowing waters over large slippery boulders. Ashley ploughed across using a technique which was akin to a hybrid of a ballerina and a sumo wrestler whereas I was more like a cross between Peter Crouch and C3PO - a disaster waiting to happen! High centres of gravity are not best suited to rainforest birding and river crossings.
Very soon I was AoverT, wellies full of river water and lower part of body soaked. When we reached Roho it is 1.30 - we would now be walking in wet wellies and pants for the rest of the trip. But not to worry from somewhere Fede managed to conjure up a Coffee Mocha and suddenly everything was wonderful again... .briefly... It was raining... real rainforest biblical floods stuff! The most coined phrase of the trip would become 'F****ing' Hujan' - Bahia Indonesian expletive meaning 'lots of rain'.
There was an 'I told you so' conversation between myself and Ashley. And then Vinno announced that we still had another 9ks to walk. It was now 3.30 and would be dark at 6.30. Datje reckoned that it would be 7pm before we reached our destination given the conditions. So off we set and within seconds everything is wet, forget coats and umbrellas, in this kind of rain there is no dry place and spirits gradually start to dissolve......
The trail is now a mud soup - the only variable was depth. The really pleasant occasions are when you lift your foot but your wellie remains somewhere below the mud surface. Mentally we were still quite positive but the 'glass half empty head' was not far away.
It's tricky to look for birds when you are constantly watching every step but in a lull in the Hujan we did manage to get reasonably good views of the beautiful Salmon-crested Cockatoo, Red Lory, the comical looking Long-crested Myna and Seram Imperial Pigeon. Cameras were left permanently in their water-proof sacks. As soon as you stop and look down there are usually a multitude of leeches either heading towards you or actually already on you - strolling up your pants or into your wellies; indeed some of them seemed to have parachutes and drop onto you from out of the overhead trees. Datje had a lucky escape as one entered his eye. He managed to pick it out just before the mouth and suckers got to work. 'Remind me Ashley....why are we doing this.'???????
At 6.30 we arrived at our camp for the night - Wasamati- a wooden hut by the river. It was already occupied by some of the tribes people from Kanikeh Village higher up. They'd been down to buy fuel in Huaulu to keep the village chiefs power generator working.
They made Ashley and I a hot palm sugar drink which really hit the spot and helped keep the spirits up. We hung our wet clothes up to dry but we knew that this was a lost cause. At least our sleeping bags and karrimats were dry. Once everyone had arrived we ate a hearty meal of rice, packet noodles and sardines and within seconds we were asleep given that we were both still jet-lagged. Ashley had not had more than a couple of hours sleep in the last 50.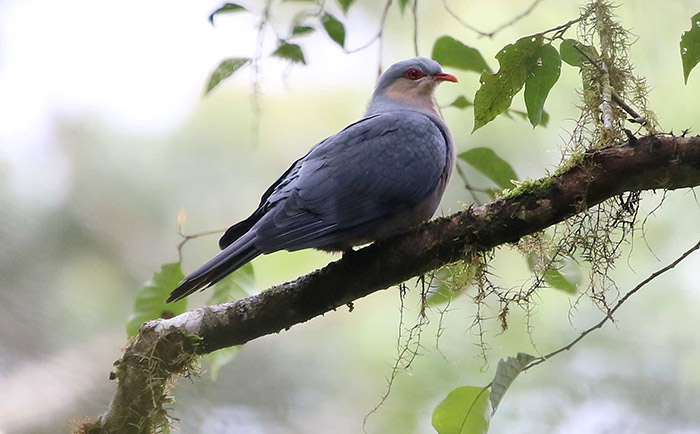 Seram Thrush Trek Day 2
Yes! It's only Day 2 - seems like a lifetime doesn't it?
Well the good news (I think) is that we woke up! It's a bright sunny day spirits are lifted. How far to the next stopping point Vinno?....'8k to Kanikeh".....sounds alright. Now....first chore is to put wet clothes on. Put leg in top hole and 6 legged spider runs out of bottom hole. Ever wondered what's been going on in your pants overnight? Despite it being warm this still felt like trying to edge into the sea at Blackpool in the height of a British summer.....
The tribes people have already left so after a coffee and some noodles we are on our way. First - the river - tackled without major mishap but wellies full of water again within 5 mins of leaving camp. Not long into the hike we meet up with the villagers who are trying to call in Hornbills - presumably for lunch. I am saddened..........
This is exacerbated when we meet up with a young couple from Kanikeh who are carrying a trapped Purple-naped Lory. They are heading down to Huaulu to sell it. We ask how much they want for it....'dua juta'......2 million rupiah or around £110......a lot of money for them. I try not to blame them and try to think the bigger picture- world poverty etc......Then from nowhere comes a thought from Corporate Pre-history. When Kellogg moved to Oracle in the late 90s we had a change management consultant who was a bit of a fruitcake. Going on about stranded starfish on the beach. For one person to save them all is a Herculean task but if we all throw one back then we start to have an impact. So! Despite there being millions of birds in cages across the whole of Indonesia....if we don't start somewhere albeit in a small way...we will never get traction. I felt very good about this thought and was reaching for my wallet only to notice that during my period of spiritual enlightenment the said couple and Lory had 'legged it' and were already a ways down the trail....grrrrr!
This part of the trail is tough. Very up and down with a number of hazardous exposed tree roots and of course the omnipresent mud. Deep ravines and rotten bamboo bridges keep us on our toes and as a result we did little birding. We did however happen across a couple of Spectacled Monarchs and got first views of Seram Golden Bulbul and Seram Leaf Warbler. A Red-breasted Pygmy Parrot was a nice find.
It was slow progress and getting very hot. I realised that I was quite de-hydrated and a little unsteady on my feet. We persevered and at 11 am arrived at a bamboo rope bridge over a river. It was now really hot and I was not feeling great. I recognised the bridge from a photo in Melissa Gallardy's blog. There was a difference though. Since the photo was taken one side of the bridge had disappeared.
The tribes people were just across the bridge and - no they weren't playing charades - they were imitating crabs - ie. ' big danger mister - you must crawl across'.....I sat in deep reverie for some minutes. Thoughts of my own mortality and what would happen if the bridge gave way. Anyhow I plucked up courage - the mythical thrush spurring me on, and crawled gingerly across. The first thought once I was on the other side was 'In a couple of day's time I have to 'do' that bridge again.' This was a dangerous moment - all common sense and thoughts of self-preservation were gone. I felt like Frodo Baggins heading for the Tower of Mordor.
We were now in Kanikeh village and were welcomed by the village chief and a lady who must have been over 80 and whose teeth had dissolved in Betel Nut Juice long ago. She tried to give Ashley a kiss and he momentarily let the 'he man' birder mask slip as he tried to escape her clutches. He's a big softy really.
Anyhow serious discussions were had over lunch. We were all pretty knackered, Vinno Soewarlan had knee problems and it was very hot. We all agreed that 3 nights would not be enough. We had at least 5k to walk to Waenselen camp and some of this was very steep up. We made a plan to extend for 1 extra night. BUT we only had cooking fuel and food for 3 nights and more importantly coffee was running low 'Yikes ' - this was serious.
We managed to buy replenishment food in the village but would still need to be careful with fuel. We rest up until the heat of the day is through and then will walk up to camp 1 which is a couple of kms from Waenselen - our base camp for the Thrush. Vinno decides to stay in Kanikeh to rest up and recover.
He asked us to 'thin out' our luggage and to take only the bare essentials, it was amazing to see how much superfluous stuff we left behind as we set out for the ' final push.'
At 3pm we set off. Going gradually uphill through degraded forest, mud and more river crossings. Within 30 mins the Hujan starts and buckets down until we reached camp one at around 1000m asl.
We rapidly pitch a tent and tried to keep our dry stuff dry. When I looked into the rucksack my sleeping bag was no longer in its waterproof bin liner and was soaking - it's now getting very grim - everything is wet and covered in mud. Ashley reminds me of a trip that we made to Sumatra some years previously. Camping for 6 nights and continuously getting drenched. We knew that we had reached the top of the grimness scale when Ashley found insect eggs in his wet underpants. We were getting close to that benchmark......
The Hujan had subsided but there are mozzies around. Surprisingly we haven't seen many given how wet it is. I muse that I am glad that I am taking anti-malarials. Ashley responds that he does not take them because he has an old Norfolk marsh gene which gives him super human tolerances over mosquito bites....so it's not just me who is delirious.
We collapse into wet sleeping bags leaving our clothes strung up outside. At around 1 am it is bucketing down and I get the two minute warning.....I run naked into a pitch Black Forest just before my stomach cramps get the better of me. It's official 'I want to die'.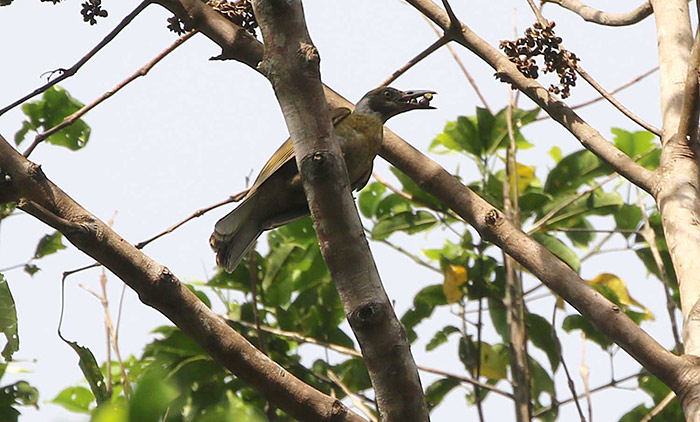 Seram Thrush Trek Day 3
Woken pre-dawn by a persistent Moluccan Cuckoo calling manfully in the trees above Camp One. Spend some time 'tapefully' trying to lure him out but to no avail - his thoughts are elsewhere.
Anyhow the routine is the same ... get up, fall over, wipe mud off body, wring out wet clothes and put them on...of course leaving the shirt until last. It's cold now and that last garment is a real eye-waterer to engage with. But one difference this morning...we are not having breakfast - we will push on for the Thrush and hopefully get there whilst things are active. As my Manchester friends would say ....'we are on it like a car bonnet...'. So after a quick cup of coffee we set off at speed ...in totally the wrong direction. ??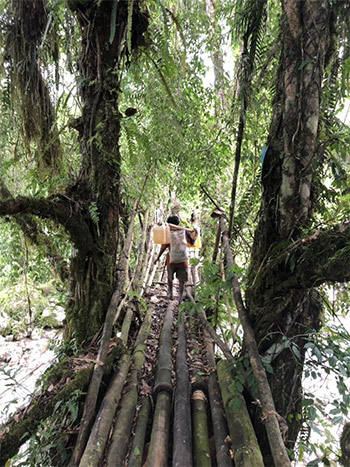 'Hey Datje-should we really be climbing up this steep stream bed, through rushing water, across large boulders towards that huge waterfall? We retrace our steps and meet Gerson who shows us the correct path just across the stream from the campsite. We have lost a valuable 45 mins. The trail now climbs steeply...no really steeply.... we will climb 300m in less than 2 kilometres...don't fancy coming down these slopes...great potential for break-dancing and Chimpanzee impressions. The Moluccan Cuckoo has finally gone quiet and a new ear-worm enters my head. The Stone Roses....'This is the One'. Very appropriate. We can almost smell the Thrush we are getting so close.
On the way up we see Seram Mountain Pigeon and White-Bibbed Fruit Dove. We also hear and glimpse a Todiramphus kingfisher which should be Collared on altitude vs Lazuli. We never did get clinching views of this bird but it did respond to Lazuli vocalisations....one that got away....
At around 8am we arrive at our camp at Waenselan. We dump some stuff and head quickly up to 1400m. We listen, we wait, we play the tape and YES! we convince ourselves that we can hear the bird. But after intensive searching and once the initial excitement dies down, we feel a bit deflated. It's getting late in the morning, it's getting hot and the cicadas are out in force drowning out any bird calls. We get nice views of Yellow throated Whistler. There are quite a few Lory's screeching around up here and moving incredibly quickly. Those that we manage to get views of are Blue-eared...a tough bird to get from the road due to lack of altitude.
We settle in for the long haul...Ashley decides to go higher...I look at the gradient and decide to stick around the Thrush spot. It is not going to give itself up easily...we have to get into its head. I sit down on a log with a good view of the path and hope that the Thrush hops out.... playing the tape occasionally.
After 15 minutes or so a noise filters through the cicada cacophony... was that a....yes it was...I can hear a Pitta. One of the most sought-after families in Asia. The one here used to be Red-bellied Pitta which is spread across the Celebes, Moluccas, The Philippine and New Guinea ... it has now been split into many different species depending upon which taxonomy you follow. Anyhow this is now South Moluccan Pitta and could even get to be Seram Pitta ...I need to see it.
I look in my hastily pulled together playlist for sound recordings ... I have two ... but inconveniently they are both called 'Red-bellied Pitta' so I have no idea where the calls were recorded. My sound recording system is wet and no longer working. Many years of pitta hunting have taught me that crashing in after the bird is not a great idea....so I get as close as I can sit behind a fallen tree stump, make myself as invisible as possible and play the tape. The bird immediately shuts up and does not call again for 10 mins...well that didn't work! Or did it? When t calls again it is closer and is now somewhere above me on the slope. It has moved! I play the tape again...the Pitta responds but does not move...we play this game for around 5 mins after which something flies past my head down slope... the Pitta has gone quiet. That must have been it. I play the tape again...the Pitta lands right in front of me gives me a cursory glance realizes that I'm not 'one of him', looks puzzled for 10 secs or so and then flies off. That 10 seconds...WOW!!!! He now shuts up - game over!!
Anyhow back at the main event. Ashley is still upslope...it's gone overcast and bird activity has stopped. It's around 11am. I decide to walk slowly down to camp for breakfast. When I get there tents and tarpaulin are up and the kettle is on. Fede utters the immortal words...'Kopi mister John?' Well yes please -wonderful. What a guy. However it's less than 10 degrees Celsius and the porters are cold up here. Fede has also knackered his knee on the climb up. I give him my damp fleece and a couple of paracetamol.
There is a stream next to our camp. I decide to have a wash and shave before the inevitable Hujan. I feel better for it but almost immediately the stairs rods come down. Ashley appears - he's seen an Island Thrush...I'm gripped! So I'm down a Thrush and he's down a Pitta...I weigh it up and feel good about this imbalance??
We sit in the tent listening to the rain. At 4pm it eases off and we head back up. Ashley has also heard Seram Thrush higher up -s lope but we decide to focus at 1400m.
We get to the site...it is cold, damp, overcast and bird- activity free. We wait until after dark .... It's not looking good. Deflated we head back to camp. Fede has conjured up a can of Sardines. We have one cup of coffee and Datje tells us that there is one more for the morning then...'Kopi finis mister'. This is now really serious.
We amuse ourselves playing owl calls. A Moluccan Scops Owl duly obliges and perches in full view about 20m away. We do not have a recording of Seram Masked Owl...not sure that anyone does. So I casually play Australasian Masked Owl. Ashley is currently rummaging in his rucksack and I have a coffee in one hand and the speaker in the other - frontier birders! Immediately I play the tape what looks like a big owl appears above the trees, heads straight towards us, surveys the scene below and drops out of sight. all in about 5 seconds. Reminded me very much of the behaviour of Taliabu Masked Owl that we saw in 2015. Another great catching opportunity dropped in the slips. I believe that there was a good chance that this was the Masked Owl - Ashley is sceptical ??
We talk to Datje...he says that we need to walk to Roho tomorrow...that's around 28km. God that sounds tough . It is the only place that we can get fuel. That means that we need to be out of Waenselen by 9am tomorrow.
It really now is SQUEAKY BUM TIME!!!!!!!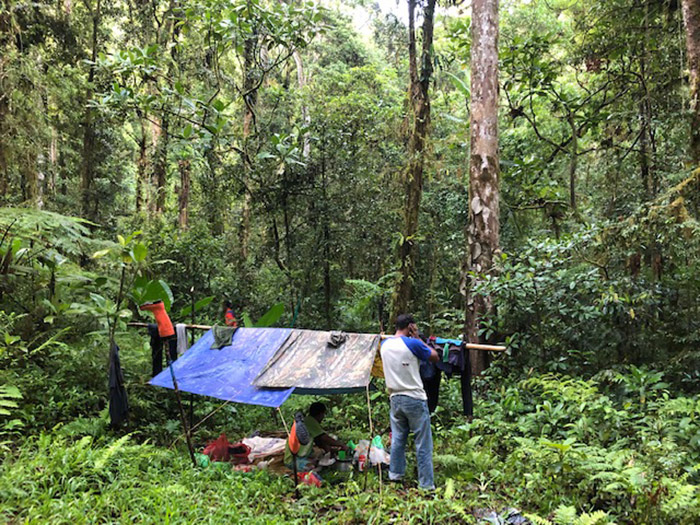 Seram Thrush Trek Day 4
We don't get much sleep. The first 3 hours of daylight will be critical. We discuss whether it is possible to eat dry rice and whether Fede could conjure up some forest herbs for us to feast on for another day....
Will we be heroes or will we be zeroes...in the end we decide that we are still in the game. Unable to sleep we get up at 4am. It really is cold and miserable here. The ear-worm of the day is …The Cure - Boys Don't Cry....or do they? Our spirits are lifted as Fede produces the last cup of coffee. We grit our teeth and head up to 1400m for what is probably the last time. We listen for the Masked Owl but he's having a morning off......
It's just getting light when we arrive - everything is quiet...we play the tape - nothing! Very soon it is 6.30...we have 150 minutes before we must leave.
I am standing at a point where Datje said that himself and Ross had good views. Suddenly out of nowhere a Thrush' shape jumps up onto a log just in front of me and just as quickly jumps down. I have an inner sense that this is him! I quietly and stealthily make my way down the track to fetch Ashley and Datje. Once in position we play the tape and almost immediately get a response...I am starting to shake!
The bird is about 20 metres ahead us of down a small gulley. The dilemma now is 'how often should we play the tape' - we don't want to scare him but we also want to keep him interested. We creep down the gulley a few metres and play the tape. A shape flies into cover at the bottom of a close by tree...from the same place we hear the call of Seram Thrush....it's him!!!!! But god-awful views.
Everything goes quiet then we hear the bird again but above us...it's gone around us and moved up the gulley. We can see Datje and he is gesticulating furiously...he can see the bird! Aaaaaargh!
We quietly move up to where Datje is standing and see movement in some low vegetation. In fact we can see two areas of movement. In a split second two birds break cover, fly across the path and disappear into an inaccessible craggy area with lots of vegetation. We have come all this way - I'd rather not see the bird than get views like this. We wait....and wait...we hear a bird calling but it is way up the Gulley. Have we missed our opportunity??
We give it 30 mins but neither hear nor see any sign of the thrushes. It's 8.00am- things are getting desperate. Clutching at straws we decide to climb higher...the going is tough. I decide to turn back and concentrate my last moments up here in an area where we know there is an active pair of Seram Thrushes. Ashley disappears upslope.
I position myself where I can see both areas where we got glimpses. Datje is just up the path from me looking intently at the inaccessible deep cover where we had our last sighting. I remain focused and still believe that we might get it although my subconscious is already walking down the mountain....
Then suddenly I hear...'psssst'...Datje is trying to catch my attention. He is pointing at where we last saw the birds. I gingerly cross the 30 metres to where he is standing and pointing. Initially I can't see anything...then...yes I can. There's movement in that very dark area...and then the movement moves into a very light area...and .... my god I can't quite believe it .... there it is .... a SERAM THRUSH ...in all its glory and splendour. I can't believe this is happening and just drink in the experience until it slowly moves back out of sight. We must have watched it for about 30 seconds but the views that we got were magnificent. THE RELEASE....I yell YES, YES!! YES!!!!. Datje and I share high 5s, then we hug and then actually I believe that we may have kissed. It's a man thing.....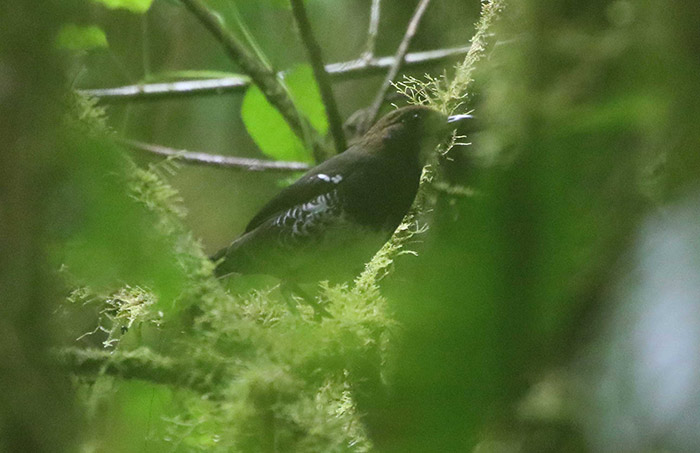 Only then did we realise that Ashley was nowhere to be seen. It was 8.40 we had to leave in 20 minutes. We tried to shout without disturbing the thrush but no response. And then...a big crashing sound and an aerial tsunami launches from the crags above us and Ashley lands in front of us like a man possessed. Which of course he he is!. I describe the experience not knowing whether Ashley would congratulate me or chin me. Thankfully he takes the news in his stride. I try to placate him by saying that if he stands where we are now I'm sure that it would show again in the next 20 mins. I don't think that he believed me. I know that I didn't believe me.
I decided to move off and leave him to his inner turmoil...the best I could do was to try to relocate yesterday's Pitta. About 5 minutes later I heard cheering from Ashley and Datje...the bird had showed up and given great views. Even better Ashley managed to snap a few photos.
We are immortal, we are indestructible - we came, we saw, we ticked .... probably the most or one of the most difficult birds to see in the world!!!
But now we have to get back down that slope and walk 28 kms. We stop briefly at the Pitta spot...no joy but Ashley does see another Island Thrush.
We get back down to camp and celebrate with a bowl of rice. Soon we move off downslope...and back towards Kanikeh. The trail is treacherous. I am knackered, it's hot and one foot wrong could mean disaster. What would happen if I got broken limb up here...it didn't bear thinking about. I'm also starting to notice that a couple of my toes are getting very painful as they push against the front of my small wellies. We persevere and eventually arrive back at Kanikeh - exhausted - at around 11am. Despite all the adrenalin accumulated from the Thrush experience I really do not think that I can walk 25km to Roho in the afternoon heat and Hujan. Vinno and the porters have a conference and decide exactly the same. By the time we get to Wasamata the river will probably be too high to cross. We change plan again and decide to stay at Kanikeh the night and walk all the way out to Huaulu tomorrow. This delays the pain - but I'm ok with that. We need to rest......
The homestay which is our accommodation has a Mandi (shower or bucket of water out back). I have a long soak and then decide to walk around the village. The first thing that I notice is that every house has at least one Purple-naped Lory tethered outside. Their wild population must be taking a real hammering.
This village is really poor - I ask Vinno what the life expectancy is... expecting him to say - something between 35 and 45. Apparently they have just celebrated someone's 102nd birthday...amazing.
Over lunch we drink to our success (with boiled water) with congratulations all around and especially to Fede, Datje and Gerson...we could not have done it without them and without Vinno's organisation skills.
The conversation moves onto the Owl and the hole in the tree. Datje says hole? (singular)...there are two holes...Ashley and I look at each other.....never give up...the double is back on!
We retire to bed a 4pm. Absolutely exhausted
Seram Thrush Trek Day 5
Did Datje say that there are two holes?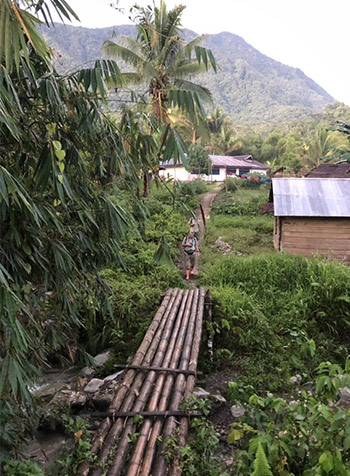 It's 4am - we have slept for 12 solid hours. We have a walk of 26km ahead of us. GOOD NEWS...I have found clean , dry socks , T shirt and pants at the bottom of my pack. BAD NEWS...I have two black toe-nails and what looks like the foundations for the 'mother of all' blisters.
Breakfast is served. Vinno wants us out of the door and walking before it gets hot and for us to try to get beyond any rivers pre-Hujan. Mentally we have already walked to Huaulu and are on our way to have another go at the Owl...physically the fun is only just beginning. The village chief turns up and announces that the rope bridge is too dangerous to use. Well you know what that means. We set off with a spring our steps, reach the rope bridge, descend into the river, fall over, everything is wet again...as you were! ??
The first part of the trip back to Wasamata is uneventful but a real slog. We do little birding due to the precarious nature of the path and the desire to get onto phase 2 of the mission. Ashley sees a couple of Violet Crows fly over but they have moved off before I catch him up. We arrive at Wasamata and have a swim and a wash. We are on the home run. 18km to Huaulu. I put my wellies back on but feel a sharp pain. I take my sock off...one of my toenails is hanging off. Grit teeth, pull, put sock back on. Off we go one toenail down.
My feet are not in great shape and I have slowed considerably. It took us two hours to get from Roho to Wasamata in the rain on the way up. It takes me 3.5 hours of hobbling on the way back. The positives...it's sunny AND Fede has found some Coffee Mochas in Roho Village. We rest up for a while but I'm keen to keep moving as I'm seizing up. In fact my whole body is closing down. We cross the BIG RIVER - remarkably I don't fall in??
Now only 7km to go. We complete the river section - takes 90 minutes. I am really going slowly now ... toes not in good shape. The 'mother of all blisters' has a blister on it her twin has formed on the other foot...it's hot, I'm dehydrated and starting to feel dizzy.
Who put that mountain there? It definitely wasn't there on the way out...God this is tough ... I'm managing a km every 30 minutes. Everyone has left me except for Fede and Datje...I want to marry them.
Finally, finally at around 4.30 we collapse into Huaulu. There has been no rain today. Fede has found some chocolate buns to dip into our Mochas...he really is a top bloke......apart from not being able to walk everything is good...
After some final photos and fare-wells we get into our taxi and head back to our 'luxury' accommodation...a low-key end to such a terrific adventure. Ashley casually asks if I fancy a trip for the Snow Mountain Robin in W Papua. I politely tell him to go swivel on it....
We arrive back at our accommodation, eat and crash out...
Tomorrow we go again...Seram Thrush Trek. The Masked Owl subplot......
Seram Thrush Trek...The Finale

Wake and gingerly get out of bed. Aaaaaargh! My feet are in agony. Ashley suggests that bursting the blisters will help take away the pressure. Doubtfully I undertake this 'Rockyesque' task and burst each one in turn with a safety pin. It actually works...I'm still hobbling but the pain has greatly subsided.
Noodles are back on the menu this morning. We leisurely enjoy breakfast and some Indonesian 'rocket-fuel' coffee before once again heading to the owl spot; picking Datje up on the way...he has the covert knowledge of the second hole. I hobble down the ravine ...everyone is waiting when I get down to the original hole. We give the tree a tap. Unsurprisingly nothing happens and we eagerly move downslope to the 'new' hole. Anticipation is running high...
We position ourselves to get a good view of the hole; camera ready. Datje taps the tree...nothing...he taps it again...WE SEE MOVEMENT in the hole!!! We hold our breath ... surely this is it ...the moment that defines our trip.....
There is more movement and then suddenly a bird bursts out of the hole and flies off. I's a Blyth's Hornbill....FFS.... ??
Normally any birder loves seeing and hearing Hornbills....the Monarchs of the Forest. But this one was in the right place and very much the wrong time.......so what now? We have run out of options short of touring the whole forest trying to find holes. We make our way slowly up the bank. Ashley does not say a word. I leave him to his inner turmoil whilst I concentrate on mine....
We climb out of the ravine...what's that calling...it's a Seram Pitta close to the road! Ashley looks like he has seen the Medusa...a glaze comes over his eyes and he walks blindly off road, into the forest towards the calling bird in a 'Stepford-wife' like trance. We won't be seeing him anytime soon. Vinno Soewarlan, Datje and I get into the car and drive up to the pass at 1200m.....we get good views of Seram Grasshopper Warbler, Yellow-throated Whistler, Seram Honeyeater and Seram Myzomela.
We descend in altitude and stop the car. Immediately Vinno shouts....'Purple-naped Lory calling.' We can hear one close to the road. After some searching I locate the bird feeding on palm juice. It's so good to see a wild bird after the depressing experience at Kanikeh Village. This bird is hanging around so I send the driver down the hill to try to find Ashley.15 minutes later the bird is still on show. A pitta-less Ashley turns up...the bird flies off just before he raises his binoculars. Thankfully he relocates it a few hundred metres up the road. Spirits are raised by seeing this gorgeous bird in its natural environment.
So what now?
Hujan is in the air so we head back to our accommodation for food and a siesta. We decide that we will probably leave Seram tomorrow so tonight is critical. We brace ourselves for an all-night owling session.
At 5.30 we are back at the owl spot. We descend once more into the ravine. I am about 100 metres behind Ashley and Datje....my feet are still not up to moving quickly. Or are they.....?
Suddenly I hear some loud voices up ahead...Datje comes running around the corner shouting 'Mister John, Mister John. Burung Hantu, Burung Hantu...'' The Indonesian word for 'Owl'!!!!! He might also have added that 'Mr Ashley politely asks you to get your F****in skates on'...
I am Lazarus. In fact I am Usain Bolt. I can run...no I can sprint...I cover the last 50 metres in sub 5 second time.
We are at the first and original hole, I look up and there he is. The SERAM MASKED OWL...dreamily gazing down at us; he has appeared completely unprovoked. He must have been in that hole all the time. MISSION ACCOMPLISHED!!!!!!!!!
We feast our eyes on the owl for around 30 minutes. The plan or many changes of plan have come together to enable us to see two of the rarest and little seen birds in the world in one trip. We have been to dark places over the last few days both mentally and physically...but everything now feels worth it. An amazing 'make -it-up-as-you-go along-trip'. We feel honoured that both the Owl and the Thrush allowed Ashley and I to see them.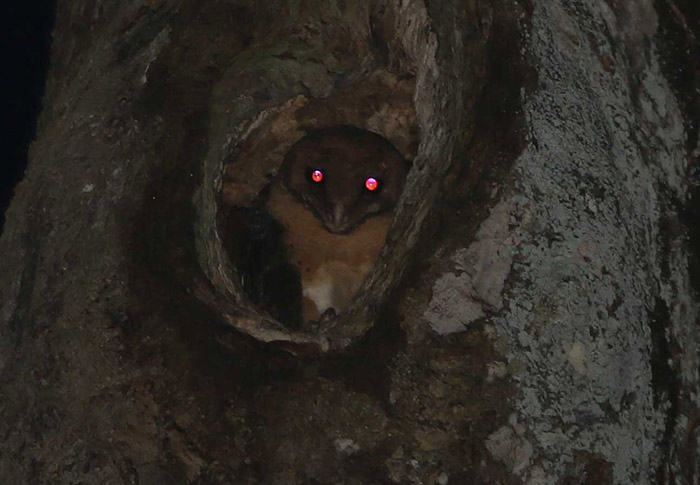 Eventually we haul ourselves out of the ravine and head back - we drop Datje at his house for the last time. I will miss this guy - a village man with a true love of the forest and everything in it. I hope to catch him on our Moluccas trip next year.
We spend an hour reflecting on what has been both the craziest and most rewarding birding trip that we have both ever done.
We eventually retire to bed at around 11pm to restfully and eventually fitfully dream about Seram Thrush, Seram Masked Owl....Snow Mountain Robin and Moustached Kingfisher?????
The End…. (for now)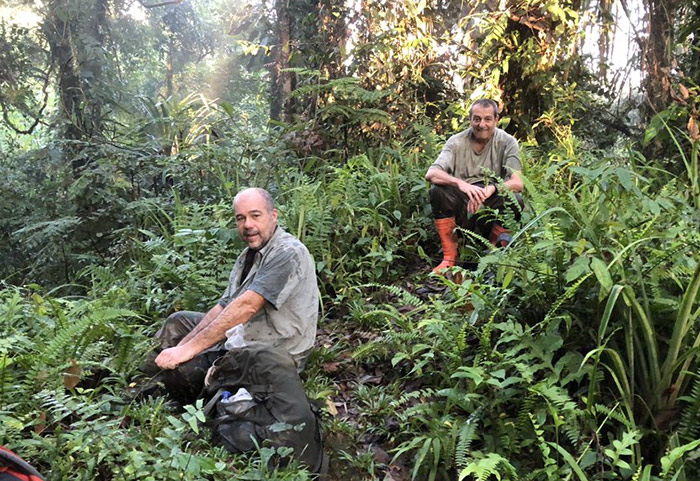 John Gregory @Johngregory100 & Ashley Banwell @AshBanwell
Dec 2018
Share this story
Tweet

Help Norfolk's fragile Willow Tit population
Ashley is currently fundraising for help with the costs of producing Willow Tit nestboxes and to run Willow Tit feeding stations. Please consider donating whatever you can to help this project this small but very important population of Willow Tits.