National Nest Box Week 2018
Valentine's Day 2018 will see the start of the 21st annual National Nest Box Week (NNBW), in which people across Britain are encouraged to put up a nest box and provide a family home for our birds.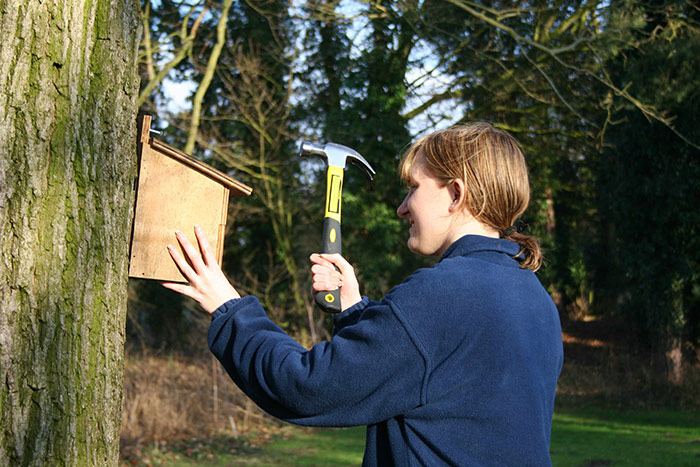 Mid-February is the time that birds across the country begin to pair up, or get back together for the forthcoming breeding season, and the search to find a safe place in which to build a nest and raise a family begins in earnest.
Over 20 different bird species regularly use nest boxes: from Blue Tits, which use the 'standard' small-hole type of nest box, to birds like the Barn Owl that use a much larger nest box with a much larger entrance hole.
To help inform which nest box to use, the British Trust for Ornithology (BTO) has produced a brand new nest box guide. This contains information on the different types of nest box, where to site them, plans for how to make them and guidelines on how you can make your nest box count if and when it is occupied, by monitoring the outcome for science.
Hazel Evans, BTO Nest Box Challenge (NBC) Organiser, said, "It is amazing how much of a difference can be made by the simple act of putting up a nest box. Two of our closest bird neighbours, the House Sparrow and the Starling, have shown dramatic declines in recent years and by putting up a nest box we can help provide the space they need to build a nest, and present an opportunity to collect valuable data. For House Sparrows a nest box with a 32mm entrance hole is what is needed, and for Starlings a slightly larger box with a 45mm entrance hole is ideal."
No garden is too small for a nest box, in the case of the House Sparrow and the Starling all you need is a little space high up on the wall of the house. For those lucky enough to have more space why not put up two or more boxes?
Even if your nest box isn't used to raise a family it might still be used as a safe, warm and dry space to roost overnight. So, go on, put up a nest box this National Nest Box Week.
Please visit here for information on the new BTO Nest Box Guide.
For more information on how to monitor your nest box once it is occupied, please visit https://www.bto.org/volunteer-surveys/nbc
Some tips for putting up a nes tbox
Only choose a box made from an insulating material such as wood or a special waterproof wood/concrete compound like WoodcretePLUS™ used for the National Nest Box Week "Official" Box.
Don't choose a box made from dense materials like metal or ceramics as the interior can become too hot or too cold for chicks to survive.
To provide insulation and be durable, the walls of wooden boxes should be at least 15mm thick. Wooden boxes can be safely treated on the outside with a preservative provided it is non-toxic and water-based. A box made from cedar, oak or beech will far outlive one made from softwood such as pine
Choose a box with a 32mm entrance hole as this is the ideal size for all small hole-nesting birds such as sparrows and tits. Choose a smaller 26mm hole only if you want to restrict the box to Blue Tits.
The box should not be too small inside as birds may lay fewer eggs in smaller boxes. The internal floor area should at least 130 square centimetres (20 square inches).
Perches are not necessary and may even act as a foothold for squirrels or weasels as they reach into the box to grab eggs and chicks.
A good box should provide easy access for human observers who wish to record the contents and to clean out the disused nesting material at the end of the season.
Don't choose a box which is incorporated in a bird table as the nesting birds may come into conflict with the feeding ones.
For much more on putting up nest boxes visit - www.bto.org/about-birds/nnbw/buy-a-box.
9 February 2018
Share this story
Tweet