A Bird Observatory in Lockdown
Early March usually sees island Observatory staff dashing from one supermarket to another buying up enough food to last for many months. The staff from Bardsey Bird Observatory are no exception to this! Having lived on Bardsey for 22 years now, buying lots of food and packing it all in large boxes for transport to the island just becomes part of our annual routine. However, our shopping list for three of us (me, Emma and Connor) for 6 months includes some 60+ litres of UHT milk, about 48 tins of beans, the same number of tins of tomatoes and sweet corn, 10kg of flour, 20kg of both rice and pasta etc…, and then once we know that the boat is definitely sailing, it is a last-minute dash to buy about a month's worth of fresh and frozen food…
This year, as the crazy panic buying due to the unfolding Covid-19 situation took hold, we began to struggle (and still are doing) to be able to enough find food on supermarket shelves, and when there was food on the shelves, we were limited to the amount we could buy, like 2 packets of pasta or four tins of beans - this did not bode well for survival offshore for the coming months! Supermarket staff and shoppers alike thought we were part of the crazy panic buying, and we became the subject of one or two brusque comments and funny looks. We continued our efforts regardless, as we needed food to live!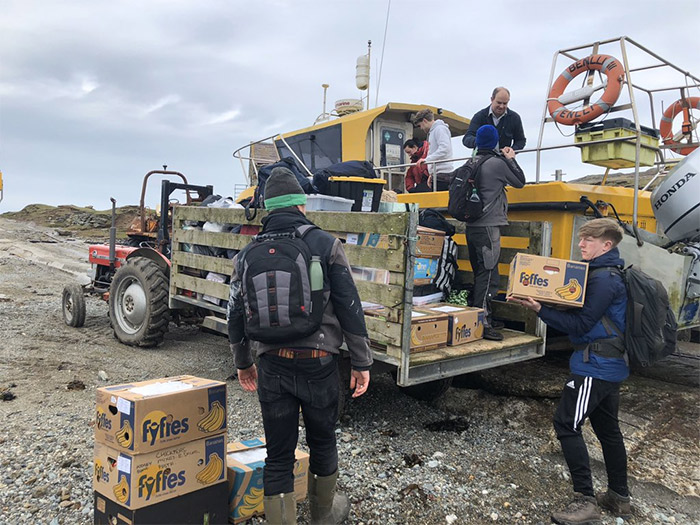 I had been in meetings days before with the trustees of BBFO and Bardsey Island Trust Ltd., the island's owners, about crossing to the island and whether we should isolate ourselves from the already present island staff once we were ashore. The decision was that this would be the safest course of action in the remote chance that any of us was carrying the virus.
Eventually, we rustled up enough food for a few months and the three of us, along with our two assistants (George Dunbar and Sam Prettyman), headed to Bardsey. Upon arrival on 18th we found that summer migrants, like Chiffchaffs, had already beaten us there, but we were all glad finally to be home and away from the madness that was ensuing on the mainland. We began monitoring the island's wildlife, and at that point preparing for a season with strict social distancing measures in place, buying gallons of bleach in readiness for a daily dose in communal areas. However, the UK was put into lockdown on 23 March, just five days after our return to the island, in an unprecedented step to attempt to limit the spread of the virus. This meant that for the next three weeks at least, there would be no one allowed on or off the island. After our first two weeks in quarantine, as we were all symptom-free, we began to work with the other island residents, Gareth and Meriel Roberts and their 6-year-old granddaughter Ela at the farm, Ty Pellaf, and Mari and Emyr Hughes-Owen, the Island Wardens for Bardsey Island Trust Ltd. We had effectively become a single, isolated 'family unit' on 444 acres of rock in the Irish sea!
Essential deliveries to the island of food (if we were able to get a supermarket slot!!), mail and other supplies were still being brought on by the boatman, Colin, but we were all exercising good social distancing practices with him and any crew that came with him, along with good hygiene when handling parcels etc.
As lockdown continued, BBFO and BITL had regular video meetings to keep abreast of the developing situation and to make decisions, as we soon had to start cancelling guests and refunding the monies that had been paid for their stays on the island. Some were very generous and allowed us to keep the deposits, and, in some instances, their full payments.
So we were straight back into monitoring and undertaking some remedial work that could not be carried out on the lodge whilst guests were present, such as removing the lime render from the common room wall, for example.
Our daily census of the migrant birds and ringing programme continued where we left off in early winter 2019, and as spring progressed, the other monitoring projects we undertake as part of our management agreement with the Welsh Countryside agency (NRW) continued. We had to change our main plans somewhat, as we were reliant for some of our work on additional staff and volunteers, so we had to reduce some of our workload and change other tasks to suit a smaller staff base. However, our priority work, the monitoring of the migrants and breeding land birds and seabirds, could continue. We had been in contact with the BTO to clarify the situation with regards to ringing and were given the OK, as the whole island was effectively the boundary of our property and there was no chance of contact with the public.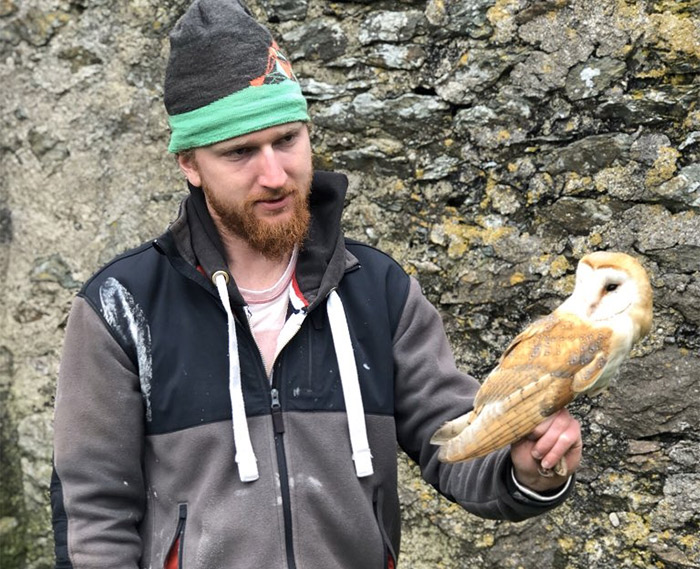 As the month continued, and birders and ringers across the whole of the UK were limited to the length of time they were allowed out of their gardens, we began to feel more and more privileged that we were being able to wander around the island as normal, and go out birding as and when we wanted!! We had 2 miles of open ocean between us and the nearest possible bit of Coronavirus.
We were also being blessed with some good calm weather and good numbers of common migrants arriving on the island; there were several days with Willow Warbler numbers exceeding 200 and peaking at 455 on 16 April. We had a good run of Redstarts, Pied Flycatchers and Blackcaps too, with almost 1,000 blackcaps recorded in the month; 250 of those were on 16th April also! Scarce birds were few and far between, and unfortunately the best bird of the month will not be accepted, as it was a singing Subalpine Warbler which was not seen and, unfortunately, not recorded!
As spring migration began to slow, we began our research and monitoring work, again having the freedom to roam into the shearwater and seabird colonies knowing that we were virus-free and we were not going to be transmitting it to anyone as there was no one else on the island!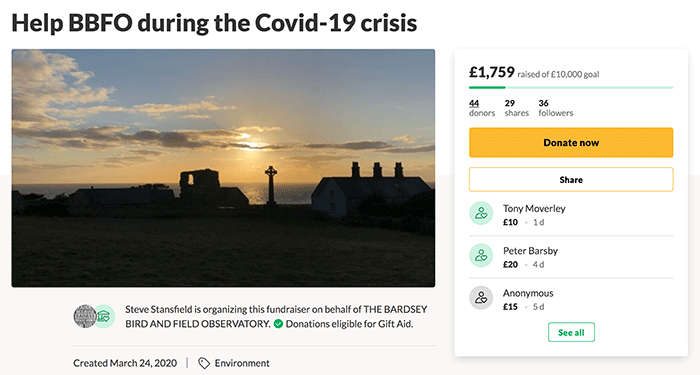 One very significant downside to all the freedom we were enjoying was that it did mean that we had no guests in the Lodge. These guests contribute about 50% of our annual income and if we don't welcome any guests in 2020 we may be looking at a potential £20k loss for the year. We have been running various fundraising initiatives and if you would like make a donation, please go to our web page www.bbfo.bogspot.com, where you can make a donation via GoFundMe, or contact warden@bbfo.org.uk.
Steve Stansfield
19 May 2020
Share this story
Tweet