Weekly round-up: 08 - 14 Aug 2012
The week at a glance
Eleonora's Falcon photographed in west Cornwall
County Kerry lands another Least Sandpiper
Pallid Harrier flies by in the Republic too... a 1st for Clare
Stilt Sandpiper linger a little longer in Northumberland
Decent push of early autumn drifters on Orkney and Shetland
A mass of birds to deal with this week as Bird Fair looms and London 2012 begins to fade slowly, slowly into the ether, clouds lined with gold rather than silver for a change!
Warm weather was prevalent for much of the week, pushing temperatures in to the mid 20's in places and bringing some pretty muggy conditions along for the ride too. Some south coast sites benefitted from the moist warmth while further north, on the east coast from Suffolk and Norfolk, to Northumberland and up to Orkney and Shetland, the breezes off the sea (largely southeast to east-southeast) meant that a strong first wave of drift migrants was bagged as the week drew to a close.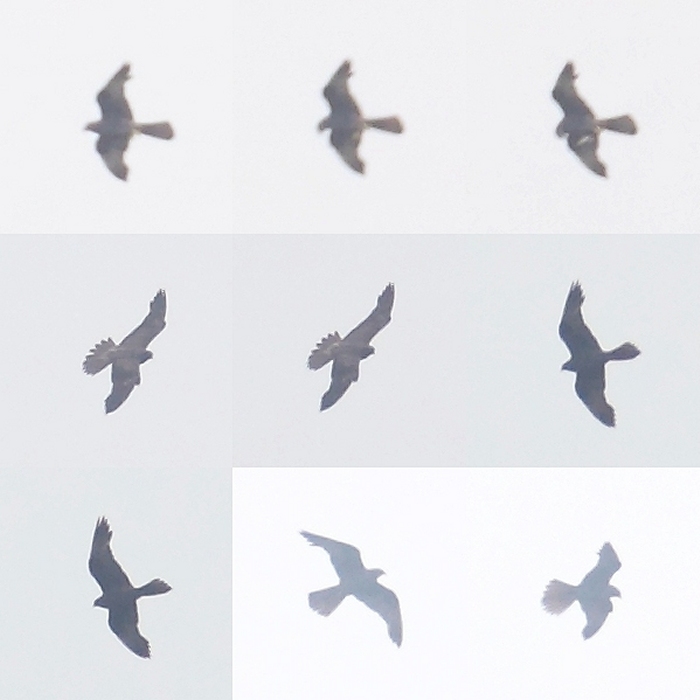 Headline birds
After a summer jam-packed with decent birds (though none that make the lister's hair stand on end) the first genuine mega of the early autumn slipped by with just a collection of slightly fuzzy, slightly hazy but utterly gripping images to show for it….
Yes, as Mo Farah was presumably trotting gamely along the training track within the confines of Fortress Olympic Park, two seawatching birders in west Cornwall stole the week's birding gold medal with a 20 minute encounter of a raptor right out of the top drawer.
During the middle of the afternoon of 11th two birders seawatching off Gwennap Head, Porthgwarra noticed a large all-dark falcon hawking insects across the cove. Needless to say, despite a little distance between them and the bird, there was enough nouse about the observers to rattle off a series of crucial shots. Those images were, undeniably, a first-summer Eleonora's Falcon in all its ragged glory.
Along with the characteristic shape of the bird (note especially that pinched-in base to the slender yet lengthy tail) the plumage (notice those funky dark underwing coverts for starters) points to just one species.
Without the shots, the record would probably have gone nowhere. With the shots, it's a whole different ball game and acceptance as Britain's seventh-ever Eleonora's Falcon is the next step.
Since the start of the 2000's there have been just two accepted records of this most beautiful of falcons ~ most recent was another photographed bird, over Maldon in Essex in September 2008. Prior to that was a pale phase bird over Reydon (Sufffolk) in early October 2003 and you then have to go back nearly two decades for the next British Eleonora's Falcon, a hazy first-summer seen at Hickling Broad (Norfolk) in June 1987. That bird took an eternity to be accepted as the fourth for Britain, but it made it in the end….
Before that East Anglian trio (ok Maldon is a squeeze in to that whole E.A. box) the 1980's registered birds on the Outer Hebrides in June 1985 and, freshly dead, straight out of the cabbage patch, a second-year bird in East Yorkshire in late October 1981.
The bird that set the ball rolling was the first-summer that spent two days in the dunes around Formby Point (Lancashire & north Merseyside) on 8th-9th August 1977. Never assigned to a colour form, the bird was nicely illustrated though and it was enough to ensure that this still "most wanted" bird of prey gained a place upon the British list.
With seven records on the books (one of them with as much rigor mortis as a Norwegian Blue tho') this remains an unbelievably hard species to twitch.
Indeed, aside from the very first one, none of the live records have been anything other than flyovers and flybys (the bird last weekend in Cornwall was lost after less than half an hour of hawking and a brief rest on the spectacular cliffs nearby) there are perhaps less than 15 – 20 birders who have been fortunate enough to witness one of the neatest BOPS you could wish for….and unless sharp eyes pick this individual up somewhere around the coastline of the southwest in the next few days, there's nothing to think that the species will remain one of the toughest on the British List to connect with….
Someway behind Eleonora's Falcon in the medal race this week (don't worry, the Olympic motif will be forgotten about next week…) but worthy of an avian silver nonetheless was the adult Least Sandpiper that spent a few hours at Carrahane Strand, in beautiful County Kerry, on 13th. The August 2012 bird is a mere stone's throw (if you've an Olympians's arm I guess) from Black Rock Strand (less than half a mile in fact) from where a juvenile Least Sandpiper was found last November. That bird spent over a month on site, so is there the faintest chance that it may even be one in the same?
Staying in the Republic, and staying in the medals, a bronze medallion goes to the first-summer female Pallid Harrier identified heading high over Moyasta (Co. Clare) on 12th. This species remains desperately rare in the Republic ~ the first records only came last year ~ and this week's bird is a potential first for the county.
If it had arrived this week, there's little doubt that the handsome stripy-chested adult Stilt Sandpiper in Northumberland would have easily made itself a silver medalist behind the Cornish mega-raptor, but this week, like Dai Greene, it's a bit of an "also ran" and comes in fourth in this week's Headline Hitlist.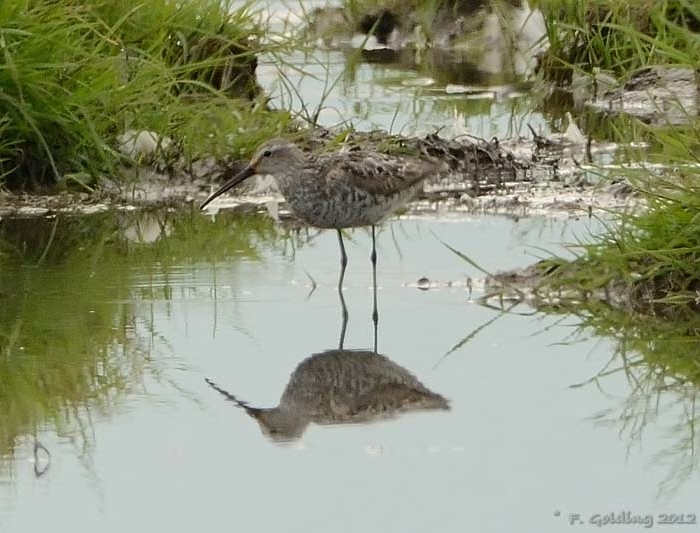 This popular bird was in residence at Low Newton-by-the-Sea until the middle of the evening of 9th when it was flushed and didn't return. Sharp-eyes down the east coast may yet relocate it, but there's every chance it may have headed out over the North Sea towards the low countries.
Seabirds
Plenty on offer this week in terms of pelagic goodies, although the Pterodromas and assorted uber-mega petrels are still proving elusive in the extreme.
A sortie into the Atlantic off County Clare produced two Wilson's Storm-petrels along with Long-tailed Skua, two Sabine's Gulls, Pomarine Skua and Balearic Shearwater.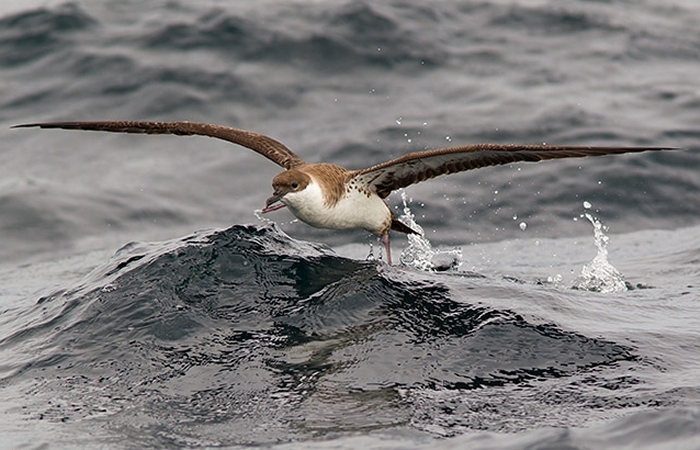 Big shears were in short supply, six Cory's Shearwaters was seen off the coast of County Cork, a mile or so out of Baltimore on 9th, with a single Great Shearwater for good measure. Further single Greats were seen off Scilly and between there and mainland Cornwall (from MV Scillonian III) on 10th and 13th, with two more Cory's noted from the Scilly pelagic on the former date.
Around 50 Balearic Shearwaters were counted around the country's coastlines over the past few days with, unsurprisingly south coast counties stealing most of them ~ with 11 off Devon's Berry Head (on 13th) the high count. Further north singles were seen in North Yorkshire and Durham, and further north still to Fife (one off Kinghorn on 13th).
Seven Long-tailed Skuas were seen off the coasts of East and North Yorkshire this week (at Flamborough and Filey, with three off the latter site on 13th) while a juvenile was found inland at Wintersett Reservoir (West Yorkshire) also on 13th. Two birds were reported off the Suffolk coast (at Thorpeness and Minsmere) with another off Whitburn (Co. Durham). Around 30 Pomarine Skuas were recorded during the week, from Dorset to Orkney, with four from Flamborough Head on 14th the seven day high.
Along with the all-at-sea Sabine's Gull off County Clare, a further five were discovered this week ~ in Highland, an adult and "immature" (a first-summer presumably) were seen 10 miles west of Melvaig from a whale-watching cruise on 8th, with two "immatures" reported later the same day west of Staffin Bay (also Highland, and also from the whale-cruising boat). A first-summer also flew past Start Point (Devon) on 11th.
Herons, Egrets & allies
In Hampshire, the adult Night Heron continued its summer hols at Pennington Marshes, present throughout the week to 14th. A Purple Heron moved through the Cambridgeshire Washes from Sutton Gault to the Ouse Washes RSPB reserve this week ~ seen at the latter site on 9th-10th (last seen at the former site on 6th).
The quartet of White Storks spent 9th-14th on the marshes at Wet Moor (Somerset) while the same county saw at least two Great White Egrets around the natal site at Shapwick Heath NNR on 9th (with Wet Moor scoring three on 10th) while, elsewhere in Somerset, three at Clevedon on 10th-11th and two at Chard Reservoir may also have been from local breeding stock. In Worcestershire, a Great White Egret lingered at the pools near Grimley throughout the week, while singles were seen in Cheshire and Lancashire on 8th-9th, with another popping up in Shropshire, at Chelmarsh, on 12th.
Single Glossy Ibis were still being watched well at Marloes Mere (Pembrokeshire) and Tacumshin (Co. Wexford) this week, with further lone birds in Hampshire (at Farlington), Suffolk (at Minsmere), West Sussex (at Barham) and Cork (at Timoleague).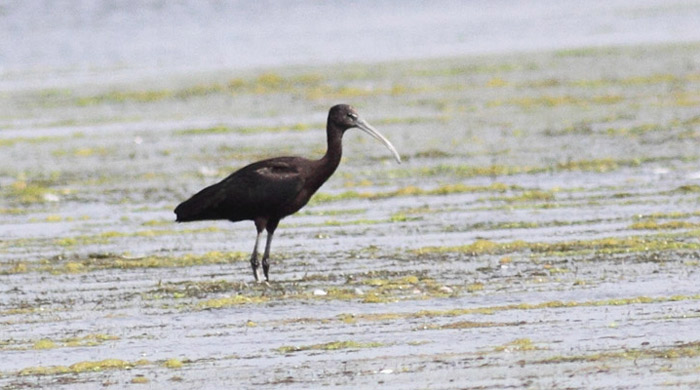 A Common Crane was seen at Loch of Boardhouse on Mainland Orkney on 8th and two were seen on the Nene Washes (Cambridgeshire) on 12th.
Titchwell was the place to see Spoonbill this week, 22 birds counted there on 10th, with 15 there to 14th. Cley has, for the last couple of years, been the site for the local breeders at Holkham to move to as the young fledge and move away, but this year, it's the west of the county that is favoured by these, always, fun and funky beasties. (Cley scored up to six this week, including four begging juveniles).
Elsewhere, Minsmere scored seven, Orford Ness and Arne RSPB (in Suffolk and Dorset respectively) managed four each while ones, twos and threes were spread from Devon and Somerset to Carmarthenshire and Forth.
Less long in the leg, but vaguely related to the gang above is Spotted Crake and at least two were noted this week ~ a juvenile was at Marazion Marsh (Cornwall) on 11th-12th and it or another was trapped at the same site on 14th. The same date saw one appear on the mud at Stanwick GPs (Northamptonshire) and, also on 14th, a Corncrake was flushed from the path at Red Rocks (Cheshire).
Ducks & Geese
In Suffolk, last week's Ferruginous Duck became this week's Ferruginous Duck, still present at Minsmere RSPB to 13th at least. Off the coast of Aberdeenshire, at least two drake Surf Scoters lingered at Blackdog (along with the groovy potential hybrid Surfie) for much of the week with another drake further down the Scottish east coast at Lunan Bay (Angus) on 8th. In Wexford, the two female Blue-winged Teals that arrived last week remained until 9th.
Raptors
Pallid Harrier aside, the only raptor of significance this week was a Black Kite, a juvenile, reported heading over Walsgrave, near Coventry (West Midlands) on 9th. Around a dozen drifting Honey Buzzards were seen during the round-up period (from Ayrshire to Bedfordshire)) while four birds were seen from the Raptor Watchpoint at Wykeham Forest (North Yorkshire) on 12th.
Shorebirds
At least two Black-winged Stilts were at Wet Moor (Somerset) on 10th (inviting the inevitable question about just what they may – or may not – have been up to).
No such questions regarding many other shorebirds this week ~ dodging the Olympic hullabaloo at Ferrybridge (within a two minute flight of Ben Ainslie's boats) was a Buff-breasted Sandpiper on 9th-10th, with another appearing at Tacumshin on 12th (remaining to 14th). In East Yorkshire, at Beacon Ponds, a White-rumped Sandpiper was located on 11th and spent the following two days on site.
Seven Pectoral Sandpipers included two singles in Suffolk this week (at Minsmere and Orford Ness) with Marshside RSPB (Lancashire), Elmley RSPB (Kent), Hayle Estuary RSPB (Cornwall) and "Site X" in Hampshire all playing host to single birds. In Ireland, another Pectoral Sandpiper was seen in Wexford, at Lady's Island Lake on 8th.
A Temminck's Stint stopped off at Oare Marshes (Kent) briefly on 12th and a Dotterel was still alongside the Golden Plovers at Bornish, South Uist (Outer Hebrides) on 14th. Out at sea, a Grey Phalarope was seen off the Kerry coast on 8th from a pelagic out of Dingle.
In Gloucestershire, still tucking itself away amongst all the Icelandic Black-tailed Godwits at Slimbridge this week was the moulting adult Long-billed Dowitcher ~ heading towards a month in residence after being found on July 21st. Only the third ever county record for Gloucestershire, there was a near-27 year gap since the last one ~ a juvenile, also at Slimbridge, in September and October 1985. The first county record came the previous year, a bird spending two months between Frampton and Slimbridge in October to December 1984.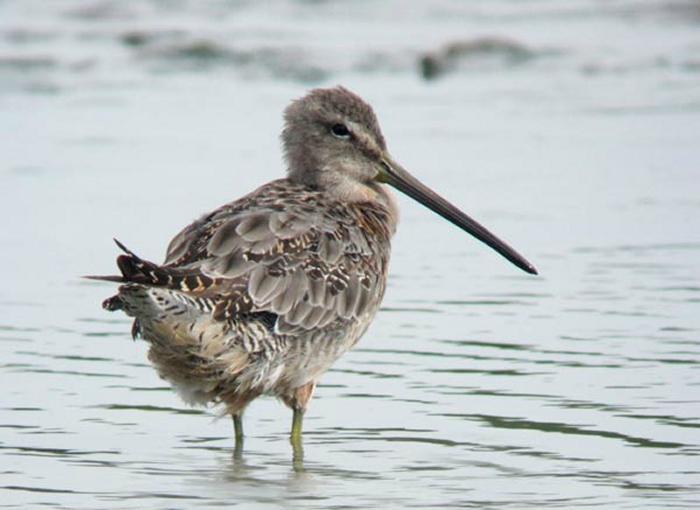 Norfolk birders would welcome a Long-billed Dowitcher in the county (there are just 10 on the county list, the last coming in September 2007) but this week the county hosted a Marsh Sandpiper at Hickling Broad (tho' some famous year-listers – amongst others – cried foul and "runt Greenshank"). Best not get involved….but the facts as they stand are that the bird was reported on the morning of 14th, disappearing during the wobbly heat-haze of a sunny afternoon, before showing again in the evening. Let BBRC decide if it was a "runt Greenshank" or the real deal shall we?!?!?!?
Gulls and Terns
Way up west in Argyll, the adult Bonaparte's Gull remained around the Add Estuary until 12th while further out, down in County Down, at Groomsport, the second-summer Ring-billed Gull remained throughout the week, while Ireland also hosted the only Glaucous Gull and Iceland Gulls of the week (at Ballycastle, Co. Antrim and Malin Head, Co. Donegal).
Overshooting drifters
The push of warm easterly to southeasterly winds moved at least three Aquatic Warblers in to southwest counties this week ~ with the familiar reedbeds of South Milton Ley and Marazion Marsh bagging birds one and two of the week. The SML bird, the first of 2012, appeared on 10th, while further to the west, the MM individual was trapped and ringed in the early morning of 12th. Less expected was the bird controlled amongst the sunflowers at Portland Bill, also on 12th, the first there for almost a decade.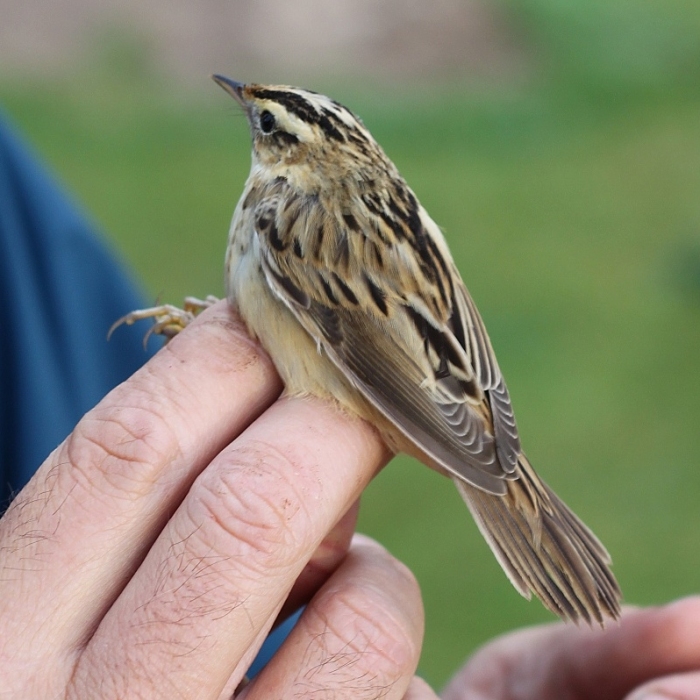 In the Northern Isles, three first-winter Citrine Wagtails made landfall this week. First up, one on North Ronaldsay on 12th with Fair Isle scoring one, then two on the scrape at Utra on 14th. It wouldn't have been too long ago when the thoughts of Citrine Wagtails arriving in the second week of August were nothing more than fanciful ~ not anymore though as these three show (Fair Isle also scored with a mid-August bird last year, on 13th and the species has, over the past five years, become a regular feature of the first couple of weeks of the month).
Fair Isle also scored the first Common Rosefinch of the autumn (also on 14th) while a juvenile Red-backed Shrike was seen in the dunes of Blakeney Point (Norfolk) on 12th. Two Wrynecks made island landfall too ~ on the Isle of May (Fife) and Bardsey Island (Gwynedd), also on 14th.
A decent arrival on North Ronaldsay on 14th produced the autumn's first Greenish Warbler, along with a juvenile Red-backed Shrike and four Barred Warblers.
Landguard Point got the Barred ball rolling this week ~ one there on 12th and was followed by one at Auchmitie (Fife) with Shetland singles on Whalsay and Fair Isle on the same day. On 13th, North Ronaldsay grabbed its first and on 14th, Fair Isle hosted three, with one each for Unst, the Isle of May, Northumberland and East Yorkshire.
Four or five Icterine Warblers appeared this week ~ at Spurn on 12th and 14th, on the Farnes and Fair Isle on 13th with another on Blakeney Point on 14th. The week's two Melodious Warblers were found at Portland Bill on 9th and St. Mary's (Isles of Scilly) on 14th. Rounding off the tally of continental drifters, a Marsh Warbler was at Bawdsey (Suffolk) on 10th.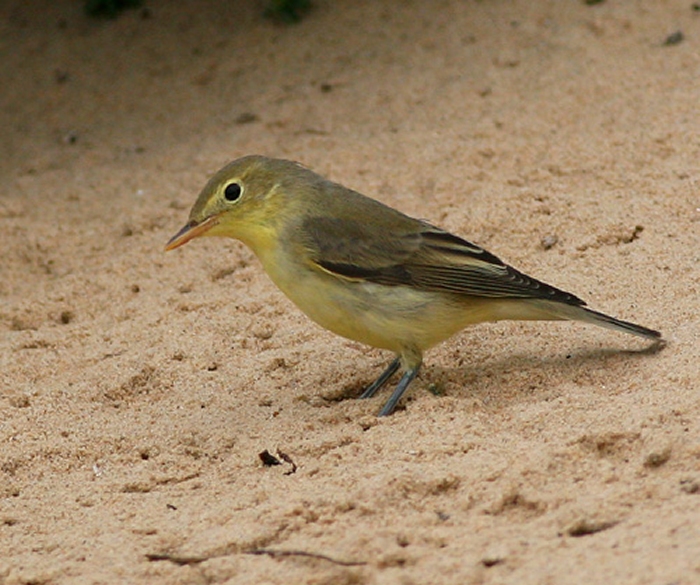 Passerines - best of the rest
Away from all the autumn drift migrants, other passerines (or similar) of note included a Bee-eater heard calling in Pembrokeshire on 9th. In Cornwall, a Hoopoe was seen near Manaccan on 12th while at the other end of the country, single Rose-coloured Starlings in Wick (Highland) on 8th and, on 11th, on Mainland Shetland, at Gulberwick and Urafirth while on North Ronaldsay, the male Black-headed Bunting remained for a few more days, still present on 13th.
And there we are….a very solid foundation for the rest of the month to build on…the forecast looks kind innarestin' for the next few days…a little seawatching may be on offer, before the hot air kicks in again. Surely its high time that finally, finally Rufous Bush Chat was laid to bed (the last accepted mainland record was in August 1980 at Prawle Point) while Britain's only Olive-tree Warbler was photographed on Shetland six years ago this week. Either of those repeating themselves would make many folk happy, and ease the crowds at BirdFair too….
Finally, its many thanks to Andy Stoddart for his sterling work whilst a work-enforced departure from round-up duties (on the Euros and then the Olympics) took me out of the picture for a while. He's doubtless somewhere up Blakeney Point as I type…..!
Mark Golley
15 August 2012
This weeks contributors
For their help, contributions and photos this week a special thanks goes to:
Jono Irvine, Richard Stonier, Joe Cockram, James Lees, Paul Kelly, Frank Golding, Paul Freestone