Rare Bird Alert, Reliable Bird News Services Since 1991
Latest birdnews
(Click for full details) :




Birdnews pagers from RBA
Pagers work where mobile phones do not! They are the most highly efficient and reliable way to receive birdnews in the field. They work in almost every corner of the country, unlike mobile phones which have plenty of "reception black holes" especially in popular birding areas.
We offer a range of different pager services to suit all kinds of birders, from those who only bird locally, and maybe only occasionally, right through to the most ardent twitchers who will travel far and wide.
With services starting from 40p per day for unlimited local news, pagers are very cost effective - you pay a fixed price for your birdnews, no matter how much news we send you. You do not need to constantly set filters for the news you want and you don't have to worry about topping up credits or worry about mobile data either.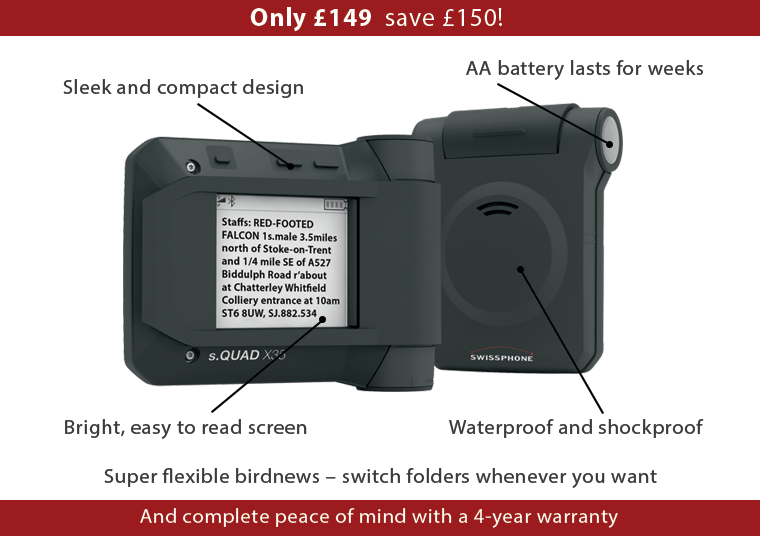 Packed with birder friendly features
As well as the tremendous coverage, our new pager has plenty of features birders will appreciate.
It is fully waterproof to three metres – so whatever the weather when you are birding, you can rely on your s.QUAD keeping you right up to date with all the latest news. Its sleek, lightweight and compact design means you won't feel your pockets are full with yet another gadget, and its shockproof construction means you don't have to worry about expensive accidents.
It takes AA batteries, which are very long-lasting compared to mobile phones, so you won't get caught out in the field with a 'dead' device, or desperately seeking a charger. The clear and crisp screen makes for an incredibly easy read, even in bright sunlight, and for those dark and gloomy winter evenings the screen is illuminated with a bright backlight. For those who need reading glasses, there's a choice of five font sizes to help.
Complete control and flexibility
Our new pager puts you in complete control over the news you receive and how it alerts you.
Our Platinum customers will now have unlimited access to every single RBA news folder. British and Irish scarce, rare and mega rare news is covered with a number of individual folders, some covering just breaking news, others with more comprehensive news of "every single update". There are 21 local area folders – and you can have all of them - plus there is a dedicated Wildlife folder.
And new for 2015 a dedicated Western Palearctic folder. Get them all, there has never been so much news available on an RBA pager.
Each folder can be switched on or off at will, and you can chose a unique alert (or no alert) for every single folder too.
In addition to Platinum, there are Gold and Silver service subscriptions, the latter designed especially for birders who want the local news for wherever they go, but are not fussed about news from further afield.
Quality Swiss made
Built to the highest standards in Switzerland, this is a pager designed to work in extreme conditions (used as it is by emergency services). And unlike mobile phones, each pager comes with a four year warranty as standard, giving you complete peace of mind.
Services to suit all birders


Platinum
The most comprehensive birdnews service available in the UK.
British and Irish news of;
Scarcities
Breaking megas
Breaking rarities
Rarities
Plus a Western Palearctic folder for the regions best birds
Unlimited access to all 21 local area folders
Also includes:
Subscription to our website
RBA Online
Subscription to our smartphone app Bird Alert PRO
Free sms text messages on breaking megas





Subscriptions: what you get access to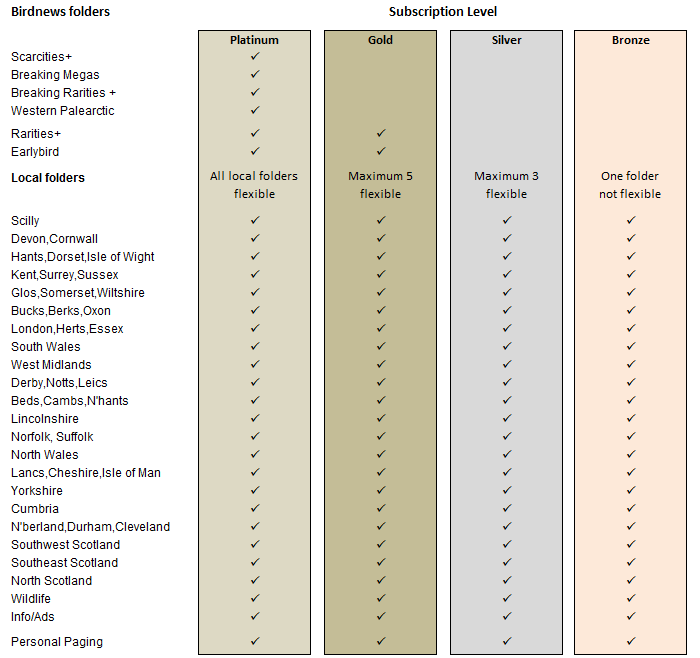 Platinum only folders
News for the whole of the UK and Ireland as follows;
Scarcities: all first reports, and all updates, on all scarce, rare and mega birds Breaking Megas: first reports of megas Breaking Rarities:first reports of all rarities and megas Western Palearctic News: major news from around the WP region
Gold and Platinum
News for the whole of the UK and Ireland as follows;
Rarities: first reports and all updates thereafter, of rarities and megas. Earlybird any very early morning updates on megas.
Local folders
Accessible through Platinum, Gold and Silver;
21 areas covering Britain, All news, on all species, for the chosen area
To see a map of the areas covered by each local folder click here
Costs
Existing pager customers: If you would like to upgrade to the new s.QUAD pager you can pay one-off special purchase price below. Your on-going subscription costs should remain unchanged.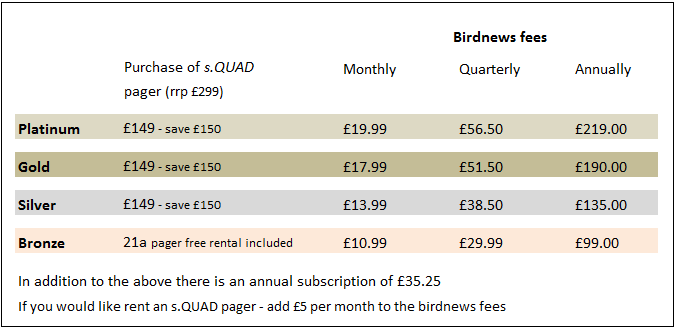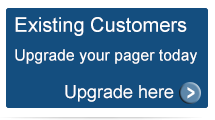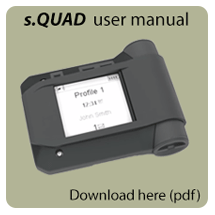 Latest photos



Latest article
Jon Dunn brings you a comprehensive roundup of the week's best birds from around Britain, Ireland and the Western Palearctic, headlined by Audouin's Gull and Greater Sand Plover, both in Yorkshire. More here >
Common Cranes are here to stay and we could have as many as 275 breeding pairs within 50 years, according to the latest population model. More here >
Over the next few weeks experts will learn a lot more about the life of Twites as they use technology to take a closer look at England's most southerly population. More here >